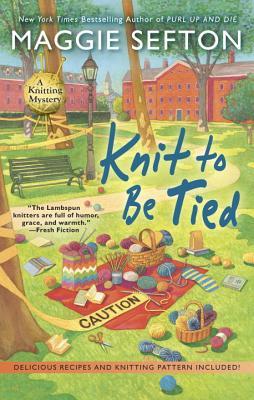 Title: Knit to be Tied
Author: Maggie Sefton
Release Date: June 7, 2016
Publisher: Berkley Books
Pages: 288 pages
Genre: Cozy Mystery
My Rating:
---
"The New York Times bestselling author of Purl Up and Die returns as Kelly Flynn and the Lambspun Knitters must come together before their whole town unravels . . .
In Fort Connor, Colorado, the friends at the House of Lambspun knitting shop are welcoming a new face into the fold. Shy, sweet, and pregnant Nancy Marsted would like to knit a baby hat, and the Lambspun ladies are more than happy to show her the ropes. They share their own pregnancy yarns and soon learn the father of Nancy's baby isn't quite the man she dreamed he was. He's a cad.
Then one dark night a speeding car fatally mows down the dad-to-be and strikes a cyclist, spinning the town into a frenzy. Everyone worries that a crazed killer is on the loose. Now it's up to Kelly and the gang to put down their needles and cut to the chase before the culprit is driven to kill again . . ."
---
Another book from Berkley that was sent to me last summer.
I was actually surprised by this book big time. I thought for sure because it was about knitting that the characters would be much older. I sometimes have that problem in cozy mysteries where the characters are so much older than myself that I find I can't relate to the book at all and then I don't enjoy it as much.
The characters in this book were all in their young thirties, just getting engaged and having babies. And it was about knitting! How fantastic!
I ended up really liking it and wanting to read the next one