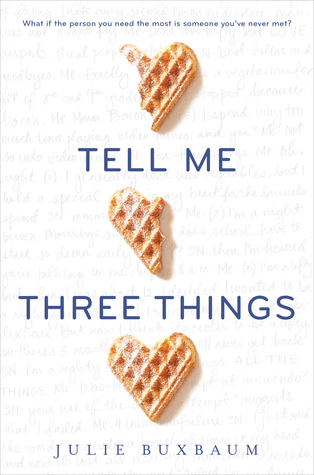 Title: Tell Me Three Things
Author: Julie Buxbaum
Release Date: April 5, 2016
Publisher: Delacorte Press
Pages: 328 pages
Genre: YA
My Rating:
---
"Everything about Jessie is wrong. At least, that's what it feels like during her first week of junior year at her new ultra-intimidating prep school in Los Angeles. Just when she's thinking about hightailing it back to Chicago, she gets an email from a person calling themselves Somebody/Nobody (SN for short), offering to help her navigate the wilds of Wood Valley High School. Is it an elaborate hoax? Or can she rely on SN for some much-needed help?
It's been barely two years since her mother's death, and because her father eloped with a woman he met online, Jessie has been forced to move across the country to live with her stepmonster and her pretentious teenage son.
In a leap of faith—or an act of complete desperation—Jessie begins to rely on SN, and SN quickly becomes her lifeline and closest ally. Jessie can't help wanting to meet SN in person. But are some mysteries better left unsolved?
Julie Buxbaum mixes comedy and tragedy, love and loss, pain and elation, in her debut YA novel filled with characters who will come to feel like friends."
---
I hate that I'm writing this review so late because I can't remember much of it!
I just remember what it made me feel. Which I think shows how good a book is because you can remember the feelings it gave you. I remember being absolutely in love with everything about this book.
The way Jessie and SN got to know each other was so good! I loved how it was so relevant to dating in life right now. How technology has become the normal and that people tend to communicate to each other mostly through texts. That while it puts a wall between us, it can also make us talk about things we wouldn't necessarily talk about in person. But then when you do meet, you're still nervous because you have that barrier between the two of you.
I also remember being so happy when I found out who SN was because they were perfect for each other! I'm also pretty sure the book made me cry at the end from happiness. Great book!