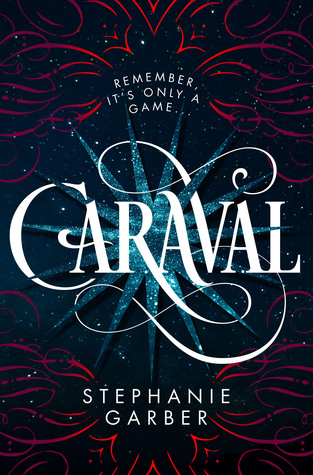 Title: Caraval
Author: Stephanie Garber
Release Date: January 31, 2017
Publisher: Flatiron Books
Pages: 407 pages
Genre: YA
My Rating:
---
"Remember, it's only a game…
Scarlett Dragna has never left the tiny island where she and her sister, Tella, live with their powerful, and cruel, father. Now Scarlett's father has arranged a marriage for her, and Scarlett thinks her dreams of seeing Caraval—the faraway, once-a-year performance where the audience participates in the show—are over.
But this year, Scarlett's long-dreamt-of invitation finally arrives. With the help of a mysterious sailor, Tella whisks Scarlett away to the show. Only, as soon as they arrive, Tella is kidnapped by Caraval's mastermind organizer, Legend. It turns out that this season's Caraval revolves around Tella, and whoever finds her first is the winner.
Scarlett has been told that everything that happens during Caraval is only an elaborate performance. Nevertheless she becomes enmeshed in a game of love, heartbreak, and magic. And whether Caraval is real or not, Scarlett must find Tella before the five nights of the game are over or a dangerous domino effect of consequences will be set off, and her beloved sister will disappear forever.
Welcome, welcome to Caraval…beware of getting swept too far away"
---
This book is about a pair of sisters who go to visit a carnival.  The carnival is in my opinion more like a fun house that you go through. But the idea is there is a game to it all.
You don't know if the people are real or if they are a part of the carnival. It is all very Alice in Wonderland like. It truly transports you into something you can't look away from, and I mean that in a good way!
I've always said I'm hit or miss with fantasy books, but this one was a real hit for me. I couldn't put it down and was surprised with how quickly I managed to finish it.
Overall a fantastic read!