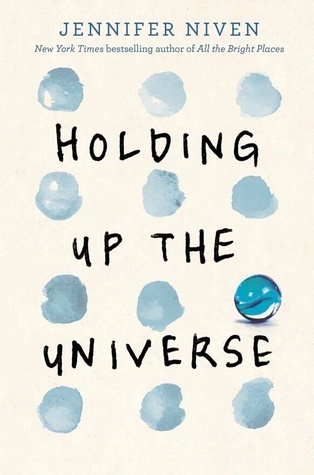 Title: Holding up the Universe
Author: Jennifer Niven
Release Date: October 4, 2016
Publisher: Alfred A. Knopf Books
Pages: 391 pages
Genre: YA
My Rating:
---
"Everyone thinks they know Libby Strout, the girl once dubbed "America's Fattest Teen." But no one's taken the time to look past her weight to get to know who she really is. Following her mom's death, she's been picking up the pieces in the privacy of her home, dealing with her heartbroken father and her own grief. Now, Libby's ready: for high school, for new friends, for love, and for every possibility life has to offer. In that moment, I know the part I want to play here at MVB High. I want to be the girl who can do anything. 
Everyone thinks they know Jack Masselin, too. Yes, he's got swagger, but he's also mastered the impossible art of giving people what they want, of fitting in. What no one knows is that Jack has a newly acquired secret: he can't recognize faces. Even his own brothers are strangers to him. He's the guy who can re-engineer and rebuild anything, but he can't understand what's going on with the inner workings of his brain. So he tells himself to play it cool: Be charming. Be hilarious. Don't get too close to anyone.
Until he meets Libby. When the two get tangled up in a cruel high school game—which lands them in group counseling and community service—Libby and Jack are both pissed, and then surprised. Because the more time they spend together, the less alone they feel. Because sometimes when you meet someone, it changes the world, theirs and yours. "
---
I loved this book! I've said it before but books with any aspect of mental health just make me so happy.
This book did such a good job at protraying everything there is about mental health. I was glad that Libby had such a fantastic CYC in her life. It made my own CYC heart melt!
I loved how we got into Libby's head about everything she was feeling. It was very realistic and well done.
I couldn't stop reading this book and when I was finished I was like wow. Wow that book.