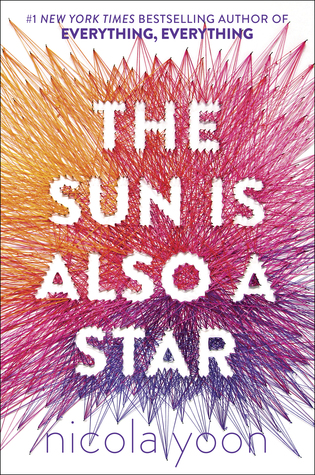 Title: The Sun is Also a Star
Author: Nicola Yoon
Release Date: November 1, 2016
Publisher: Delacorte Press
Pages: 348 pages
Genre: YA
My Rating: 
---
"Natasha: I'm a girl who believes in science and facts. Not fate. Not destiny. Or dreams that will never come true. I'm definitely not the kind of girl who meets a cute boy on a crowded New York City street and falls in love with him. Not when my family is twelve hours away from being deported to Jamaica. Falling in love with him won't be my story.
Daniel: I've always been the good son, the good student, living up to my parents' high expectations. Never the poet. Or the dreamer. But when I see her, I forget about all that. Something about Natasha makes me think that fate has something much more extraordinary in store—for both of us.
The Universe: Every moment in our lives has brought us to this single moment. A million futures lie before us. Which one will come true?"
---
This book was not as good as Everything Everything. I wonder if I had high expectations going into it because of how much I enjoyed Everything Everything.
It had great potential, but the ending killed it for me. I don't like when books don't wrap up nicely. Maybe this one did for some people, but for me it really didn't. I was like WHAT?! that's the end?!?! how?! literally. I even texted some friends and was like really? it ended like that? I don't know. So I knocked off a star purely because of that.
I really did enjoy how this book was from so many people's perspective. It was mainly the two characters that obviously fall in love. But all their stories intertwined with each other. Every single little thing that happened, affected another persons life. Then we would get glimpses of that persons perspective. It would be so much different than another persons. It was really interesting because of that. How everyone was doing what they were doing because of something else. But it was all connected.