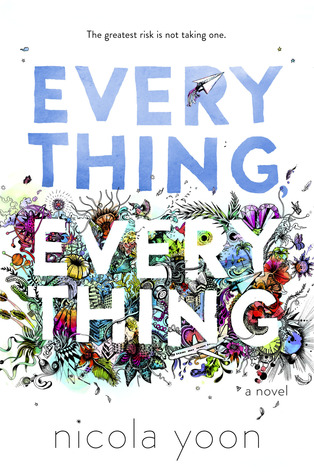 Title: Everything Everything
Author: Nicola Yoon
Release Date: September 1, 2015
Publisher: Delacorte Books
Pages: 310 pages
Genre: YA
My Rating: 
---
"My disease is as rare as it is famous. Basically, I'm allergic to the world. I don't leave my house, have not left my house in seventeen years. The only people I ever see are my mom and my nurse, Carla.
But then one day, a moving truck arrives next door. I look out my window, and I see him. He's tall, lean and wearing all black—black T-shirt, black jeans, black sneakers, and a black knit cap that covers his hair completely. He catches me looking and stares at me. I stare right back. His name is Olly.
Maybe we can't predict the future, but we can predict some things. For example, I am certainly going to fall in love with Olly. It's almost certainly going to be a disaster."
---
I LOVED THIS BOOK! Yes I had to write in all caps.
Yes this book lives up to all its hype.
Yes everything everything about this book. Everything.
I went into this book thinking there's no way I'm going to like it. It's too hyped up. They are making a movie about it. Just no.
But it exceeded all my thoughts.
It was so well written. The writing was amazing. The story was amazing. There were so many inspirational quotes and passages within the story. It makes you think about life.
So many issues surrounding grief, life and death. How things happen in our life effect other things. The relationships we have with people, what happens when people you love have things happen to them.
The ending of this book made the book. I had suspected it the whole time, but for it to actually go that way, brilliant. This book is BRILLIANT!