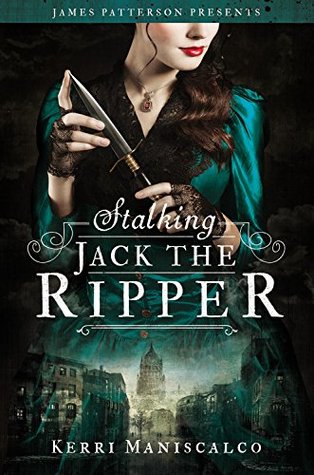 Title: Stalking Jack the Ripper
Author: Kerri Maniscalco
Release Date: September 20, 2016
Publisher: Jimmy Patterson
Pages: 326 pages
Genre: YA
My Rating:
---
"Seventeen-year-old Audrey Rose Wadsworth was born a lord's daughter, with a life of wealth and privilege stretched out before her. But between the social teas and silk dress fittings, she leads a forbidden secret life.
Against her stern father's wishes and society's expectations, Audrey often slips away to her uncle's laboratory to study the gruesome practice of forensic medicine. When her work on a string of savagely killed corpses drags Audrey into the investigation of a serial murderer, her search for answers brings her close to her own sheltered world."
---
I have such mixed feelings about this book. I originally gave it three stars when I just finished reading it. But then when I thought back on it, I decided to give it four stars.
When I first started reading it I was so disappointed. I thought I was going to DNF it which was really upsetting me because I don't generally buy hardcover books unless I absolutely can't wait for softcover. This was one of those cases where I absolutely needed to read this book ASAP. A lot of it had to do with the fact that the cover is gorgeous and it was old England which is one of my weaknesses. I however made a big big mistake. I honestly didn't know who Jack the Ripper was. I think if you don't know anything about him, you'll be in for a bit of a surprise! Not such a great surprise! I don't do gore, but let me tell you, Jack the Ripper is all about gore. Nasty nasty gore. There were parts of this book that I absolutely struggled to get through. It was making my stomach turn, but I had to keep reading.
Once I got past the gore parts which was the beginning half of the book, the book was absolutely amazing. I think what makes this book the best is that ending!! WOW!
So if you can handle the gore of books, I would say read this, it's such a good book!