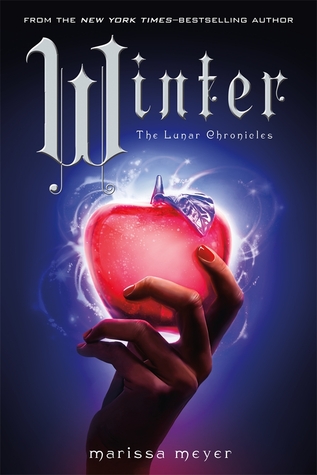 Title: Winter
Author: Marissa Meyer
Release Date: November 10, 2015
Publishers: Feiwel & Friends
Pages: 823 pages
Genre: YA
My Rating:
---
"Princess Winter is admired by the Lunar people for her grace and kindness, and despite the scars that mar her face, her beauty is said to be even more breathtaking than that of her stepmother, Queen Levana.
Winter despises her stepmother, and knows Levana won't approve of her feelings for her childhood friend–the handsome palace guard, Jacin. But Winter isn't as weak as Levana believes her to be and she's been undermining her stepmother's wishes for years. Together with the cyborg mechanic, Cinder, and her allies, Winter might even have the power to launch a revolution and win a war that's been raging for far too long.
Can Cinder, Scarlet, Cress, and Winter defeat Levana and find their happily ever afters? Fans will not want to miss this thrilling conclusion to Marissa Meyer's national bestselling Lunar Chronicles series. "
---
I LOVED this book!
Seriously this entire series is just pure love!
The characters are absolutely amazing. They are so well developed. I mean really well developed. As you're reading it you know instantly which chatacter is talking even though it tells you at the beginning. It's just such a distinctive tone for each person.
Also staying true to the whole fairytale business, the romance between each pairing is just amazing. I ship Winter and Jacin so hard! Even Cress and Thorne <333
I also think the entire book wrapped up the whole series perfectly. A perfect ending to an amazing series!!!