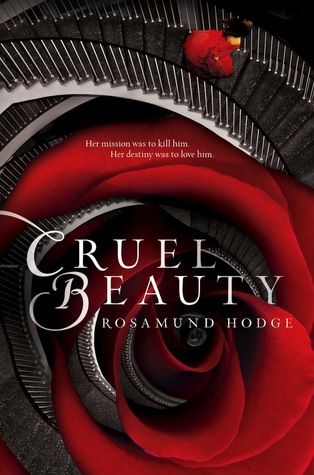 Title: Cruel Beauty
Author: Rosamund Hodge
Release Date: January 28, 2014
Publisher: Balzer & Bray
Pages: 346 pages
Genre: YA
My Rating:
---
"Graceling meets Beauty and the Beast in this sweeping fantasy about one girl's journey to fulfill her destiny and the monster who gets in her way-by stealing her heart.
Based on the classic fairy tale Beauty and the Beast, Cruel Beauty is a dazzling love story about our deepest desires and their power to change our destiny.
Since birth, Nyx has been betrothed to the evil ruler of her kingdom-all because of a foolish bargain struck by her father. And since birth, she has been in training to kill him.
With no choice but to fulfill her duty, Nyx resents her family for never trying to save her and hates herself for wanting to escape her fate. Still, on her seventeenth birthday, Nyx abandons everything she's ever known to marry the all-powerful, immortal Ignifex. Her plan? Seduce him, destroy his enchanted castle, and break the nine-hundred-year-old curse he put on her people.
But Ignifex is not at all what Nyx expected. The strangely charming lord beguiles her, and his castle—a shifting maze of magical rooms—enthralls her.
As Nyx searches for a way to free her homeland by uncovering Ignifex's secrets, she finds herself unwillingly drawn to him. Even if she could bring herself to love her sworn enemy, how can she refuse her duty to kill him? With time running out, Nyx must decide what is more important: the future of her kingdom, or the man she was never supposed to love."
---
I wanted to love this book, I really did. I had kept seeing it everywhere on Instagram, everyone on good reads was singing it praises.
Unfortunately, this book just wasn't the book for me.
It took me a while to get into, and then there was a part where I was like, ok I get it! This is going to be good, but then it just fizzled out for me. It took me a while to ginish it.
There isn't anything particular that I didn't like about it. As in, the writing was good, the characters were well developed, the world within the story was well thought out and planned.
It just simply wasn't something I was interested in.
If you love fantasy and other world books, books with demons, then I think you would enjoy this book, I would still def recommend someone to give it a try!