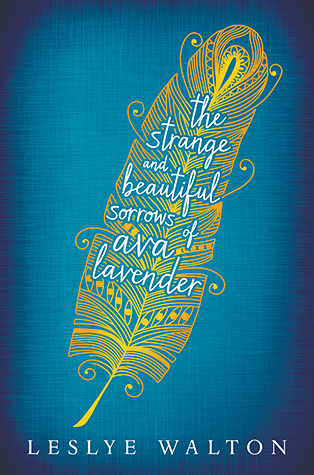 Title: The Strange and Beautiful Sorrows of Ava Lavender
Author: Leslye Walton
Release Date: March 27, 2014
Publisher: Candlewick Press
Pages: 301 pages
Genre: YA
My Rating:
---
" Magical realism, lyrical prose, and the pain and passion of human love haunt this hypnotic generational saga.
Foolish love appears to be the Roux family birthright, an ominous forecast for its most recent progeny, Ava Lavender. Ava—in all other ways a normal girl—is born with the wings of a bird.
In a quest to understand her peculiar disposition and a growing desire to fit in with her peers, sixteen-year old Ava ventures into the wider world, ill-prepared for what she might discover and naïve to the twisted motives of others. Others like the pious Nathaniel Sorrows, who mistakes Ava for an angel and whose obsession with her grows until the night of the Summer Solstice celebration.
That night, the skies open up, rain and feathers fill the air, and Ava's quest and her family's saga build to a devastating crescendo.
First-time author Leslye Walton has constructed a layered and unforgettable mythology of what it means to be born with hearts that are tragically, exquisitely human.   "
---
This book is first of all not what I thought it would be, but I was no disappointed.
It ended up being absolutely amazing. The only thing that stopped me from giving it five stars was the fact that it was a bit too gory/creepy for my liking.
The book is a bit slow to start, only because it is giving a lot of information about the families. I think this was good though because you really got a full picture of each character and why they had the views they did. So the impacts of their lives on their views of society.
The story has a ton of good quotes and I ended up tabbing a lot of pages. I was going to post some of my favorite quotes but I'm scared there will be spoilers in them. There are quotes about love, innocent love, love lost, hopeless love, you name it, this book has it.
The story is also magical, intriguing and I couldn't put it down!