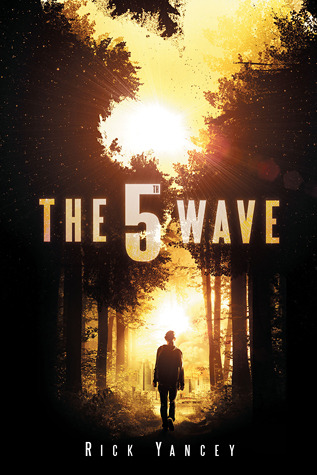 Title: The 5th Wave
Author: Rick Yancey
Release Date: May 7, 2013
Publisher: Penguin
Pages: 457 pages
Genre: Sci-Fi/YA
My Rating:
---
"After the 1st wave, only darkness remains. After the 2nd, only the lucky escape. And after the 3rd, only the unlucky survive. After the 4th wave, only one rule applies: trust no one.
Now, it's the dawn of the 5th wave, and on a lonely stretch of highway, Cassie runs from Them. The beings who only look human, who roam the countryside killing anyone they see. Who have scattered Earth's last survivors. To stay alone is to stay alive, Cassie believes, until she meets Evan Walker. Beguiling and mysterious, Evan Walker may be Cassie's only hope for rescuing her brother-or even saving herself. But Cassie must choose: between trust and despair, between defiance and surrender, between life and death. To give up or to get up."
---
First of all let me explain to everyone how I got into The 5th Wave. I'm the type of person who refuses to see a movie that is adapted from a book until I've actually read the book. In my opinion, the books are always better. However for some reason I decided to go see this movie right away.
I was always skeptical of the book, I had been seeing it everywhere on Instagram but thought it wouldn't be for me. I saw the movie and I fell in love.
Naturally I went home and ordered both The 5th Wave and The Infinite Sea. I loved both the movie and the book.
Now I understand that the book falls very stereotypical of the YA Genre, in the sense that main girl has to choose between two guys. Well I totally fell for it, even at my age. Two words for you. Evan Walker.
Ok now that I've gotten that out of my system the book was good. I love the whole world Yancey has created. It's our world, but with "natural disasters" wiping out the population. Even the way the aliens are described and everything, is quite realistic.
It's suspensful, you don't know who is good and who is bad. The world and everything is so chaotic that you try to make sense of it.
The writing is poetic at times, and just absolutely beautiful. Has you thinking about life!
My only complaint about this book is the switching between point of views. I have no problem when books switch between POV but most books let you know at the beginning who is talking. I think if I had not seen the movie first I would have been really confused as to who we were reading about in each section.
Ok everyone go read this!! I'm starting The Infinite Sea now!