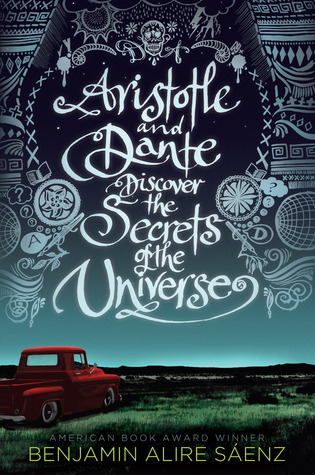 Title: Aristotle and Dante Discover the Secrets of the Universe
Author: Benjamin Alire Saenz
Release Date: February 21, 2012
Publisher: Simon and Schuster
Pages: 368 pages
Genre: YA
My Rating:
---
"Aristotle is an angry teen with a brother in prison. Dante is a know-it-all who has an unusual way of looking at the world. When the two meet at the swimming pool, they seem to have nothing in common. But as the loners start spending time together, they discover that they share a special friendship—the kind that changes lives and lasts a lifetime. And it is through this friendship that Ari and Dante will learn the most important truths about themselves and the kind of people they want to be."
---
No review/thoughts on the book I ever write will do justice to this book.
It was simply amazing.
I read it in one sitting.
I can't explain what it is about this book that captures you. There is nothing profound or huge that happens, it is simply Aristotle's life.
But the way it was written, you just really understand how Ari is feeling. You understand and can see him grow.
You feel for him for everything that happens.
The author just creates such a realistic and beautiful story, that literally I can't write a review on this book. Just go read it!