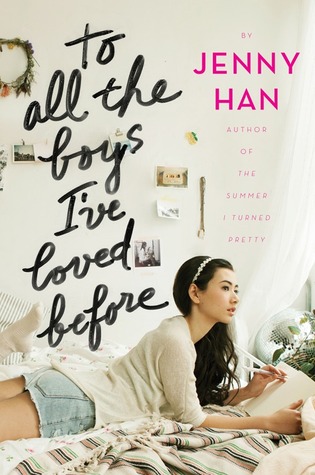 Title: To All the Boy's I've Loved Before
Author: Jenny Han
Release Date: April 15, 2014
Publisher: Simon & Schuster for Young Readers
Pages: 288 pages
Genre: YA
My Rating:
---
"To All the Boys I've Loved Before is the story of Lara Jean, who has never openly admitted her crushes, but instead wrote each boy a letter about how she felt, sealed it, and hid it in a box under her bed. But one day Lara Jean discovers that somehow her secret box of letters has been mailed, causing all her crushes from her past to confront her about the letters: her first kiss, the boy from summer camp, even her sister's ex-boyfriend, Josh. As she learns to deal with her past loves face to face, Lara Jean discovers that something good may come out of these letters after all. "
---
This book was a surprise to me.
I honestly thought I wouldn't like it because it can be seen as a romance novel. Also I tend to not like much of the super hyped books. The hype on this book was high. But it was well worth it.
This book is so much more than a romance. In fact I wouldn't call that at all. I find this book is more a coming of age novel. A book about what it is like growing up. About real life.
I really did think a lot of this book could be based on real life experinces. I also don't think it's really just for teenagers or young adults.
There was so much I was able to relate to. A lot of the questions and feelings Lara Jean has coincides with those of having your first love. Do you know if it's love? Do you love those that you think you do? How do you trust someone? How can you be vulnerable to someone?
More than that though. What's it like to grow up? To have more responsibilities? How do our fears get in the way of our lives? What happens when we hurt someone we really care about? How do you stop loving someone?
I know this review is all over the place, but I just cannot describe this book. So instead why don't you just go read this book and see for yourself how truly remarkable this book is!