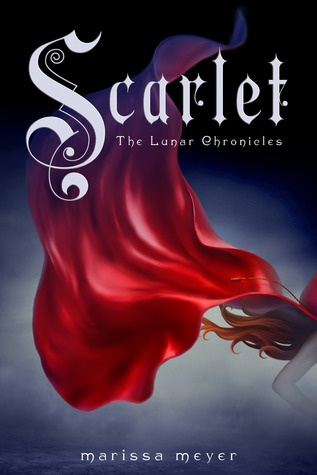 Title: Scarlet
Author: Marissa Meyer
Release Date: February 5, 2013
Publisher: Feiwel and Friends
Pages: 452 pages
Genre: YA
My Rating:
---
"Cinder, the cyborg mechanic, returns in the second thrilling installment of the bestselling Lunar Chronicles. She's trying to break out of prison–even though if she succeeds, she'll be the Commonwealth's most wanted fugitive.
Halfway around the world, Scarlet Benoit's grandmother is missing. It turns out there are many things Scarlet doesn't know about her grandmother or the grave danger she has lived in her whole life. When Scarlet encounters Wolf, a street fighter who may have information as to her grandmother's whereabouts, she is loath to trust this stranger, but is inexplicably drawn to him, and he to her. As Scarlet and Wolf unravel one mystery, they encounter another when they meet Cinder. Now, all of them must stay one step ahead of the vicious Lunar Queen Levana, who will do anything for the handsome Prince Kai to become her husband, her king, her prisoner."
---
This book omg.
I love this series soo much!
I'm going to try my best to not fan girl. I kind of suck at reviewing it's always just my thoughts of how good the book was or why I didn't like.
So for this book I love how every book intertwines with each other. What I mean is Cinder is also in Scarlets story. There are mentions of Cress within Cinder and it is assumed they are going to go find Cress. This whole intertwining kind of reminds me of Taylor Swift's Bad Blood video.
Reminds me so much of the girls of The Lunar Chronicles.
The book really picks up after about 200 pages.
Also can I just say wolf is so yummy, but then he is so lame lol!
Honestly go read this book. It is so amazing, I've never seen a story quite done like this book. So original and so amazing!!!