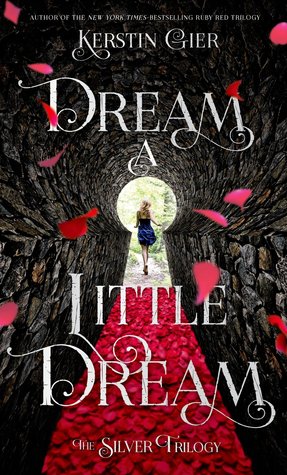 Title: Dream A Little Dream
Author: Kerstin Gier
Release Date: April 14, 2015
Pages: 336 pages
Genre: YA
My Rating:
Book Depository | Amazon |  Indigo  |  Barnes & Nobel
---
" Mysterious doors with lizard-head knobs. Talking stone statues. A crazy girl with a hatchet. Yes, Liv's dreams have been pretty weird lately. Especially the one where she's in a graveyard at night, watching four boys conduct dark magic rituals.
The strangest part is that Liv recognizes the boys in her dream. They're classmates from her new school in London, the school where she's starting over because her mom has moved them to a new country (again). But what's really scaring Liv is that the dream boys seem to know things about her in real life, things they couldn't possibly know–unless they actually are in her dreams? Luckily, Liv never could resist a good mystery, and all four of those boys are pretty cute…."
---
I picked up this book from my local library because I loved the Ruby Red Trilogy. Mind you I still have to read Emerald Green but it goes down as one of my favorite set of books of all time.
Right off the bat one of the things I liked about this story was the fact that the main character and her little sister loved a good detective story. Lots of references to Sherlock Holmes and great use of detective language.
I loved the dialogue. Liv and her sister were absolutely hilarious. I like that it was in first person and Liv said her thoughts in brackets. They were often literally laugh out funny.
The whole situation of the two families was unbelievably realistic which gave it even more appeal and more enjoyable as a read.
The storyline was great and intriguing. I had bad feelings about characters that were actually good and good feelings about characters that were actually bad. I liked that a lot.
My only criticism of this book would be the fact that the kids do a blood [act. I think that's something that shouldn't really be talked about, the idea of slicing hands, spilling the blood into a cup and then everyone drinking from it, just creeps me right out.
All in all this was a good read 🙂