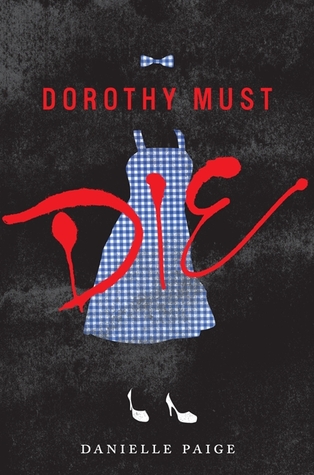 Title: Dorothy Must Die
Author: Danielle Paige
Release Date: April 1, 2015
Publisher: Harper Collins
Pages: 452 pages
Genre: YA
My Rating:
Indigo|Book Depository|Amazon|Barnes & Nobel
---
"I didn't ask for any of this. I didn't ask to be some kind of hero.
But when your whole life gets swept up by a tornado – taking you with it – you have no choice but to go along, you know?
Sure, I've read the books. I've seen the movies. I know the song about the rainbow and the happy little bluebirds. But I never expected Oz to look like this. To be a place where Good Witches can't be trusted, Wicked Witches may just be the good guys, and winged monkeys can be executed for acts of rebellion. There's still a yellow brick road – but even that's crumbling.
What happened? Dorothy.
They say she found a way to come back to Oz. They say she seized power and the power went to her head. And now no one is safe.
My name is Amy Gumm – and I'm the other girl from Kansas.
I've been recruited by the Revolutionary Order of the Wicked.
I've been trained to fight.
And I have a mission."
---
There a few things I need to say before I talk about this book.
The first is I am not a fan of the Wizard of the Oz. I've never been able to sit through the whole movie, and I don't like anything to do with it.
The second is that I had considered not reading this after the first chapter because the amount of stereotypes that were within the first chapter.
With all that being said … THIS BOOK WAS FANTASTIC!!!
Yes I have to use caps lock because this book had me seriously loving it!
I realize I'm totally fan girling here.
The reason I continued reading it even though I wasn't a fan of the first chapter was because the dialogue just felt so easy.
It was such a comfortable read, so easy to follow and get what the character was feeling.
Although the book was Wizard of Oz, all that I can really compare it to the original is that the characters are the same. Otherwise everything is completely backwards, upside down, you name it!
It almost had an Alice in Wonderland feel to it because it brought you into this completely different world where you had no idea what to expect. You didn't know who was bad, who was good, why this was happening, why that.
Yet you get completely sucked into it.
I think this book is really worth the hype it gets. I can't wait to read the second one!