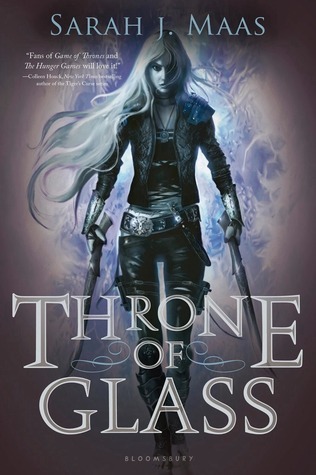 Title: Throne of Glass
Author: Sarah J. Maas
Release Date: May 7, 2013
Publisher: Bloomsbury USA Children's
Pages: 404 pages
Rating: 3/5
---
Goodreads Synopsis: "In a land without magic, where the king rules with an iron hand, an assassin is summoned to the castle. She comes not to kill the king, but to win her freedom. If she defeats twenty-three killers, thieves, and warriors in a competition, she is released from prison to serve as the king's champion. Her name is Celaena Sardothien.
The Crown Prince will provoke her. The Captain of the Guard will protect her. But something evil dwells in the castle of glass–and it's there to kill. When her competitors start dying one by one, Celaena's fight for freedom becomes a fight for survival, and a desperate quest to root out the evil before it destroys her world."
---
My Review: The reason I picked up this book was because I kept seeing it all over bookstagram. I love going on instagram and searching the tag bookstagram, I find so many books to add to my to read list. I usually try the books I see often, this was one of them.
The book was good for sure, but I feel like it didn't live up to all of the hype. The writing and story are fantastic, I"m just not sure this was really my kind of book.
I'll start with the things I did like. I love the main character Celaena. She is the ultimate female character. Think Rose Vampire Academy, Max from Maximum ride. She is an amazing character. I think she pretty much makes the book awesome. In fact her and her friend are probably the reason I will continue reading the series. She's bad, strong, likes reading, funny, vulnerable, flawed, etc. Great character.
As this is a YA novel, we all know there is going to be two male love interests. I mean thats part of the reason YA novels are awesome! I started off the book loving Dorian, but somewhere it shifted that I could not stand him. He's a good guy, just I don't think he's right for Celaena. She needs Chaol. I loved him! That's another reason I loved this book. For anyone who has read Vampire Academy I am sensing a serious Rose/Dimitri vibe between Celaena and Chaol. I need to keep reading because I have to see what happens!
The story was good too, there was suspense and intrigue. My only issue is in the beginning its a bit slow and confusing like Game of Thrones. Until you figure out who each character is, the whole dynamic of the book. Like the cities, the kings names, the different places, etc. I've heard that the series gets stronger and stronger.
I would definitely recommend this book to YA readers who enjoy a good fantasy book, or even adults who enjoy Game of Thrones.