I want to say hi to all my new followers! Thank you 🙂 I've been tagged to do some things, I'm guessing it's a lot like instagram, where I just create blog posts with what I've been tagged with. I can't really nominate yet because I don't even follow enough blogs, the ones I do have already done these. Maybe you all can leave me some links of some of your favorite book blogs for me to check out!
Also I am finally out of my reading slump, and have read two books the past few days. Now I'm starting this beauty! (Throne of Glass) I'm not sure if it's going to be something I like but it is super hyped on Instagram so let's see. Have any of you read it?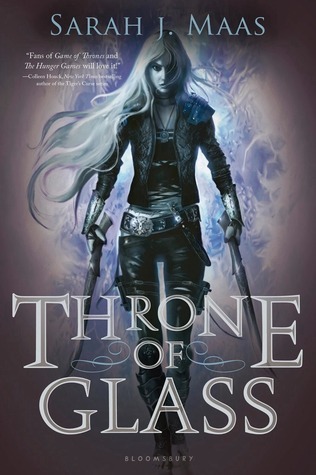 ---
Now for my tags
A huge thank you to bookmarkchronicles for nominating me for the Liebster Award! The questions and responses are:
Best book you've read so far this year?
This is a hard one, I think maybe The Selection – Keira Cass
Favorite place to read?
My bed or outside in my backyard.
How do spend your days off?
Reading, coloring, baking, crocheting/knitting, hanging out
If you could spend one week anywhere in the world (all expenses paid) where would you go?
England!
On a typical day, what do you eat for breakfast?
Just coffee.
Book that you would like see turned into a film?
The Selection
Do you cook? If so, what is your signature dish?
I do and Lasagna. Mind you I don't cook a lot, I bake more 😛
What part of blogging do you enjoy the most?
Sharing my love of reading with everyone
Most prized possession?
The necklace I got when I turned sixteen (no I'm not singing Ed Sheerhan although that song goes to my head instantly when I talk about my necklace)
What would you do if you won the lottery?
A lot!
I was also tagged by the lovely KerryBerryBooks to do 3 days, 3 quotes tag. Love this quote!