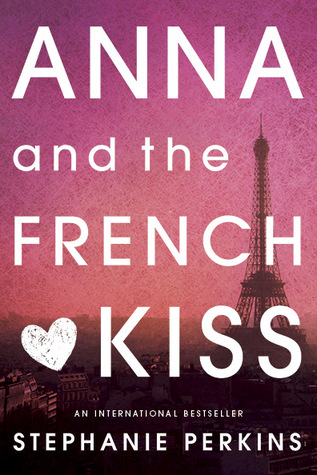 Title: Anna and the French Kiss
Author: Stephanie Perkins
Release Date: December 2, 2010
Publisher: Speak
Pages: 372 pages
Rating: 4/5
---
Goodreads Synopsis: "Can Anna find love in the City of Light?
Anna is happy in Atlanta. She has a loyal best friend and a crush on her coworker at the movie theater, who is just starting to return her affection. So she's less than thrilled when her father decides to send her to a boarding school in Paris for her senior year.
But despite not speaking a word of French, Anna meets some cool new people, including the handsome Étienne St. Clair, who quickly becomes her best friend. Unfortunately, he's taken —and Anna might be, too. Will a year of romantic near misses end with the French kiss she's waiting for?"
---
My Review: First off let me say that I really thought I would dislike this book. For the sole reason that I generally do not like romance (I always seem to say this but then I end up being a total sucker for a romance novel). I think a part of this was because of the goodreads synopsis. It comes off as maybe this whole book is about romance and about Anna finding love. I felt like that wasn't even the entire plot. I would describe this more as a teenagers life. There's friend drama, family drama, good times, bad times, experimentation, love, hate, etc. All the real emotions and problems that a teenager/young adult will have as they are growing up and finding themselves. That is one of the reasons I enjoyed this book so much. It did a pretty good job at showing real life.
My first impression, right from the first paragraph was, I'm going to love this book. I loved the writing style. It completely captured the way someone would think in their head. It was like banter/ramblings, the kind we all do in our heads, especially as we are thinking about things.
I am sitting here trying to think of what to write to back up why I want to recommend it to everyone but all I can think of is the characters are amazing! It is so cliché but it really does feel like you are engrossed in the story with them.
I loved that it wasn't all romance, which I said before, there was some real life drama in there.
I loved the setting, the way Paris was described, and Anna's troubles with being in a new city.
Ah just so good! If you like YA lit, this is a must read!!!