So I visited Book Outlet this past weekend, and I just picked up a few books. I've been trying really hard not to buy a lot of books lately (doesn't work) so I was really good when I went.
If you all don't know what Book Outlet is, quick open up Google and search it right away!
---
I picked up Fire with Fire by Jenny Han because I read Burn for Burn and I loved it, so I was pretty excited to see it at such a great price! Here is the cover if any of you are curious and the goodreads synopsis.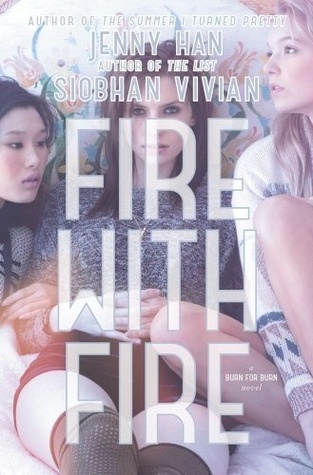 Goodreads Synopsis: "When sweet revenge turns sour… Book two of a trilogy from New York Times bestselling author Jenny Han and Siobhan Vivian.
Lillia, Kat, and Mary had the perfect plan. Work together in secret to take down the people who wronged them. But things didn't exactly go the way they'd hoped at the Homecoming Dance.
Not even close.
For now, it looks like they got away with it. All they have to do is move on and pick up the pieces, forget there ever was a pact. But it's not easy, not when Reeve is still a total jerk and Rennie's meaner than she ever was before.
And then there's sweet little Mary…she knows there's something seriously wrong with her. If she can't control her anger, she's sure that someone will get hurt even worse than Reeve was. Mary understands now that it's not just that Reeve bullied her—it's that he made her love him.
Eye for an eye, tooth for a tooth, burn for a burn. A broken heart for a broken heart. The girls are up to the task. They'll make Reeve fall in love with Lillia and then they will crush him. It's the only way he'll learn.
It seems once a fire is lit, the only thing you can do is let it burn…"
---
We all know that I love a good cozy mystery. Awhile back I got into Cleo Coyle's Coffeehouse mystery, and haven't had a chance to read many of them, but when I saw this I had to get it.
Goodreads Synopsis: "Landmark coffeehouse manager Clare Cosi has served her share of New York's rich and famous, but even she is surprised by her explosive introduction to a mysterious Internet billionaire…
When a car bomb nearly kills tech whiz Eric Thorner, Clare comes to his aid and receives a priceless thank you. Not only does the billionaire buy her a barista's dream espresso machine, he hires her for an extraordinary project: creating the world's most expensive coffee blend.
The police quickly arrest Eric's alleged attacker, yet death continues to surround the unlucky mogul, leading Clare to question whether a fatal fall and another lethal mishap are premeditated murders or merely freak accidents. Clare's boyfriend, NYPD detective Mike Quinn, has a theory of his own—one Clare refuses to believe.
Meanwhile, Eric jets Clare around the world on a head-spinning search for the very best coffee, and Clare gets to know his world—a mesmerizing circle of money with rivalries that could easily have turned deadly. But is this charming young CEO truly marked for termination? Or is he the one making a killing?"
---
Finally I still like tween books as a quick read here and there especially when I'm in a reading slump. They are quick and cute and remind me of why I fell in love with reading in the first place. So I saw this one and I have been wanting to read this series for a while, so I thought why not!
Goodreads Synopsis: "The secret is out–cheerleader Olivia and vampire Ivy are twins!
ow that Ivy and Olivia have told their friends that they're twins, they have to come clean to their adoptive parents. But Ivy's dad doesn't even want to meet Olivia!
When the vampire officials realize Olivia knows the truth about vampires, they demand that she pass three tests to prove she's worthy of sharing the secret. Yikes! One thing's for sure–if the sisters can get through this, they can get through anything!"