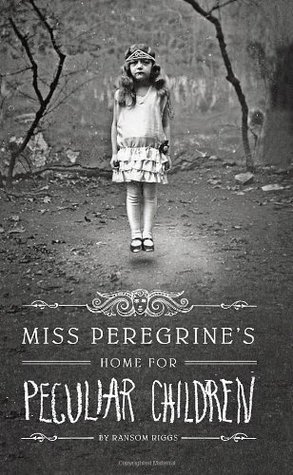 Title: Miss Peregrine's Home for Peculiar Children
Author: Ransom Riggs
Release Date: June 7, 2011
Publisher: Quirk
Pages: 352 pages
Rating: 3/5
---
Goodreads Synopsis: "A mysterious island. An abandoned orphanage. A strange collection of curious photographs.
A horrific family tragedy sets sixteen-year-old Jacob journeying to a remote island off the coast of Wales, where he discovers the crumbling ruins of Miss Peregrine's Home for Peculiar Children. As Jacob explores its abandoned bedrooms and hallways, it becomes clear that the children were more than just peculiar. They may have been dangerous. They may have been quarantined on a deserted island for good reason. And somehow—impossible though it seems—they may still be alive.
A spine-tingling fantasy illustrated with haunting vintage photography, Miss Peregrine's Home for Peculiar Children will delight adults, teens, and anyone who relishes an adventure in the shadows."
---
My Review: I chose this book because once again I kept seeing it on Instagram and all the hype about it. I didn't do much research about it, or really know what it was about. However I did think going in that this was a ghost/creepy/scary book. It wasn't. So if you're only interested in reading it because of that idea, this book is not for you.
If you like books like The Chronicles of Narnia, Harry Potter (in the sense of a whole different world) and the movie, Looper. Then this book is for you! I kept comparing this book to those three things.
Also I wouldn't really recommend this book for tweens as it suggests. There's a whole lot of swearing in it.
With all that said, I do think this was a good book. Once I realized that it wasn't what I thought it was, I was able to enjoy the story. The beginning is set up very creepy and old abandoned asylum style. So that's really interesting. There's a lot of mystery to it and Jacob has a lot to discover. Everything is well thought out and makes sense. As the reader you really want to know the answer to every single question Jacob has, because they are questions the reader has too! There was not any boring parts in the book either, it kept my attention enough that I finished the book in one sitting. The pictures add an awesome quality to the story because it illustrates for you what the author is talking about. Plus to be honest, the pictures is what probably made all of us want to read it! Definitely a very cool and awesome aspect to the book.
If you're into different worlds, adventure stories, with a bit of creepyness to it, this book is a great fast and interesting read!